DIHEF Grant Application
OUR GRANT PROCESS, GRANTING WITH PURPOSE
Apply online or print and submit by mail. Applications are considered throughout the year. We do not have submission deadlines.
Latest News
The DIHEF Official blog provides the latest information about the DIHEF. Learn about events, new releases, news articles and more. Sign up to follow our blog, Twitter feed or like us on Facebook.
Announcements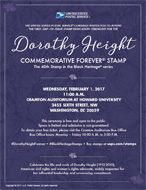 Dorothy Height USPS Commemorative Stamp Events continue through the month of February.
Click the link below to view calendar of upcoming dates and locations for more more opportunities to see and buy the stamps.
Donate

Donate to the DIHEF and help make a difference in the lives of women, youth and young adults within the United States.
The DIHEF is a nonprofit, tax-exempt, publicly supported organization under Sections 501 (c)(3) of the IRS Code. All donations are tax deductible to the extent allowed by law.