DIHEF Grant Application
OUR GRANT PROCESS, GRANTING WITH PURPOSE
Apply online or print and submit by mail. Applications are considered throughout the year. We do not have submission deadlines.
Latest News
The DIHEF Official blog provides the latest information about the DIHEF. Learn about events, new releases, news articles and more. Sign up to follow our blog, Twitter feed or like us on Facebook.
Announcements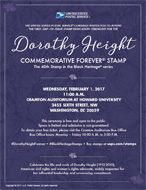 Dorothy Height USPS Commemorative
Stamp Dedication Ceremony
Wednesday, February 1, 2017 at 11:00 am.
Crampton Auditorium at Howard University
2455 6th, St., NW
Washington, DC 20059
Event is free and open to the public.
Multimedia Gallery

DIHEF Videos and Photo Collections
Book Store

Support the foundation through the purchase of Dr. Height's books: Living with Purpose and Open Wide the Freedom Gates. Available in Hard Cover and as Kindle-Edition eBooks.
All profits help to support the many programs that will educate and empower women, youth and young adults.
Donate

Donate to the DIHEF and help make a difference in the lives of women, youth and young adults within the United States.
The DIHEF is a nonprofit, tax-exempt, publicly supported organization under Sections 501 (c)(3) of the IRS Code. All donations are tax deductible to the extent allowed by law.